The Best AI Art Generator Review – Mastering Art With Ease
10 September 2023
Empowering Creativity with Beta Character AI: Your Ultimate Guide
11 September 2023
Lets take a look at Some of the Best AI Apps For Iphone
If you've been keeping an eye on the rapidly evolving world of technology, you're probably no stranger to the transformative power of Artificial Intelligence (AI). From revolutionizing industries like healthcare, education, and science to simplifying everyday tasks, AI apps for iPhones are leading the charge in innovation.
In this post, we'll delve into the realm of the best AI Apps for Iphone, uncovering the must-have tools that are making waves in 2023. Whether you're seeking productivity enhancements, creative assistance, or simply curious about the AI app everyone is talking about, you're in the right place.
The global tech landscape is abuzz with experimentation and investment in AI, resulting in a diverse array of AI-powered apps that can elevate your iPhone and iPad experience. Join us on this journey as we explore the cutting-edge AI apps that are transforming the way we interact with our devices and the world around us.
In the world of AI applications for iPhones and iPads, Google Assistant stands out as an indispensable tool. What sets it apart is its extreme usefulness in enhancing your device's capabilities, and the best part? It's absolutely free.
Extreme Usefulness: A Digital Swiss Army Knife
Google Assistant is like having a digital Swiss Army knife at your fingertips. Whether you need quick answers to questions, want to set reminders, schedule appointments, or control your smart home devices, Google Assistant has you covered. Its natural language processing capabilities make interactions feel human-like, creating a seamless and intuitive user experience.
Need directions to a new restaurant? Just ask Google Assistant, and it will not only provide you with a route but also offer real-time traffic updates. Want to translate a phrase into a different language? Google Assistant can do it effortlessly. It's a virtual personal assistant that can send texts, make calls, and even tell jokes when you need a moment of levity.
Price: Free
The best part about Google Assistant? It's completely free to use. Whether you own an iPhone or an iPad, you can easily download the Google Assistant app from the App Store and start enjoying its benefits without any subscription fees or in-app purchases. Download its here
A Glimpse into the Future: Generative AI
But that's not all. It may seams that google has ambitious plans to take Google Assistant to the next level. They are set to invigorate this already powerful tool with generative AI, a technology that promises to make interactions even more natural and intuitive. This exciting development will open up new possibilities for how we interact with our devices.
According to a recent report by ZDNet, Google's commitment to enhancing Google Assistant with generative AI is a significant step forward in the evolution of AI-powered digital assistants. This means that the future of Google Assistant is not only bright but also brimming with potential for even more usefulness and innovation.
This wasn't our top pick but runner up, with the excitement of Generative AI coming the Google Assistant we truly believe this will be groundbreaking. As a runner up of the best AI apps for iPhone 2023 we still highly recommend you check it out
Leap Video: Redefining Video Editing with AI Artistry
Leap Video, a leading video editing platform for iOS, is not just about enhancing your videos; it's about unleashing your creative vision through the power of AI artistry.
The AI Revolution in Digital Art
Imagine a world where transforming text into captivating digital art is not just a dream but a reality. With AI technology, this vision becomes a seamless, effortless process that empowers creators of all levels.
AI art, also known as digital art, represents a groundbreaking fusion of creativity and artificial intelligence. It's a form of imagery generated through AI algorithms, where words are magically transformed into vivid visuals on your screen.
Unlocking the Potential of AI-Generated Imagery
AI image generators, like the one integrated into Leap Video, are capable of producing a wide range of captivating visuals:
3D Photographs: These AI-created images can be so lifelike that they blur the line between reality and artistry, even though the subjects may not exist in the physical world.
Paintings: Leap's AI can replicate the distinctive styles of renowned painters, offering both representational and abstract art options.
Sketches: Whether you seek amateurish charm or professional finesse, AI can bring your sketch ideas to life. It can even seamlessly blend photographs with sketches in a single image.
Cartoons: From endearing cartoon characters to captivating illustrations of places and objects, Leap's AI image generator adds a playful and imaginative dimension to your creations.
Bringing Your Imagination to Life
How does this AI image generator work its magic? It all starts with a prompt—a concise description of the image you envision. Then, watch in awe as your imagination springs to life on the screen.
Leap Video isn't just about video editing; it's a canvas for your digital artistry, where the limitless potential of AI meets your boundless creativity. Discover how Leap Video can redefine your video editing experience with the magic of AI artistry.
Price: Free – $36 Per Year
After a seven-day free trial, Videoleap Editor and Maker offer flexible pricing options:
Monthly Plan: $8 per month (billed monthly)
Annual Plan: $36 per year (billed annually)
Leap Video isn't just about video editing; it's a canvas for your digital artistry, where the limitless potential of AI meets your boundless creativity. Discover how Leap Video can redefine your video editing experience with the magic of AI artistry.
Socratic by Google: Your Personal Study Assistant
As the educational landscape evolves, so does the need for effective study tools. Enter Socratic by Google, a game-changing app that simplifies the learning process, making it more accessible and engaging than ever before.
Socratic is more than just a homework help app; it's your personal study companion, leveraging the power of artificial intelligence to provide valuable insights and assistance. Whether you're a student looking for homework support or a lifelong learner eager to explore new topics, Socratic has you covered. By far one of the best AI apps for iPhone that is educational
Effortless Problem Solving
One of Socratic's standout features is its ability to solve problems effortlessly. You can snap a photo of a math problem or type in a question, and Socratic's AI algorithms will work their magic, providing step-by-step explanations and solutions. It's like having a knowledgeable tutor at your fingertips.
Subject Versatility
Socratic's AI is well-versed in various subjects, from math and science to literature and history. Whether you're tackling complex equations, decoding Shakespearean sonnets, or exploring the periodic table, Socratic can assist you on your educational journey.
Interactive Learning
Socratic doesn't just provide answers; it encourages interactive learning. It offers explanations in a clear and concise manner, ensuring that you understand the concepts behind the solutions. This approach fosters a deeper understanding of the subject matter.
AI Innovation: The Future of Learning
Socratic's commitment to AI-driven education goes beyond its current capabilities. As AI technology continues to advance, so does the potential for Socratic to offer even more innovative features. Google's dedication to enhancing the app ensures that it remains at the forefront of the educational landscape. Download its Here
Price: Free
ChatGPT: Your Conversational Genius
Enter ChatGPT – the next-level app designed to be your ultimate conversational companion. It's not just a chatbot; it's your personal conversational genius.
Unleash the Power of ChatGPT
ChatGPT goes beyond the ordinary chatbot experience, offering a world of possibilities at your fingertips. Here's a glimpse of what ChatGPT can do:
Dynamic Conversations: Engage in dynamic, meaningful conversations on a wide range of topics. ChatGPT is your go-to source for discussions, advice, and more.
Creative Writing: Whether you're a writer seeking inspiration or just want to explore your creativity, ChatGPT can help you generate stories, poetry, and content that captivates.
Learning and Research: Get answers to your questions, explanations of complex concepts, and access to a wealth of knowledge across various subjects.
Task Assistance: From scheduling appointments to setting reminders, ChatGPT is your personal assistant for managing daily tasks and staying organized.
Language and Translation: Enhance your language skills, translate text, and practice speaking in different languages with ChatGPT.
Entertainment: ChatGPT can tell jokes, riddles, and entertaining stories to brighten your day.
Problem Solving: Need help with a problem or decision-making? ChatGPT can offer insights and suggestions.
Exploration and Discovery: ChatGPT can introduce you to new topics, ideas, and perspectives, making every conversation an opportunity to learn and grow.
Personalized Interactions: ChatGPT adapts to your preferences and interests, ensuring that every interaction is tailored to your needs.
A New Era in Conversational AI
ChatGPT is not just an app; it's a revolution in conversational AI. With its ability to engage, assist, and inspire, ChatGPT is redefining how we connect with technology. Whether you're seeking information, inspiration, or simply a friendly chat, ChatGPT is your trusted companion on this exciting journey. Embrace the future of conversation with ChatGPT and experience the power of cutting-edge AI in the palm of your hand. Download it Here
See our guide ultimate guide on coding with ChatGPT Here
Price: Free
Bing: Chat with AI & GPT-4 – Where Search Meets Inspiration – Editors Choice
Meet Bing, your gateway to a revolutionary AI search engine powered by GPT-4, the latest in AI technology. Bing has harnessed the immense potential of GPT-4 in collaboration with OpenAI and taken it to the next level by infusing real-time information and citations. And the best part? It's all at your fingertips and absolutely free! We personally at AiByteBox think this is the best AI app for Iphone of 2023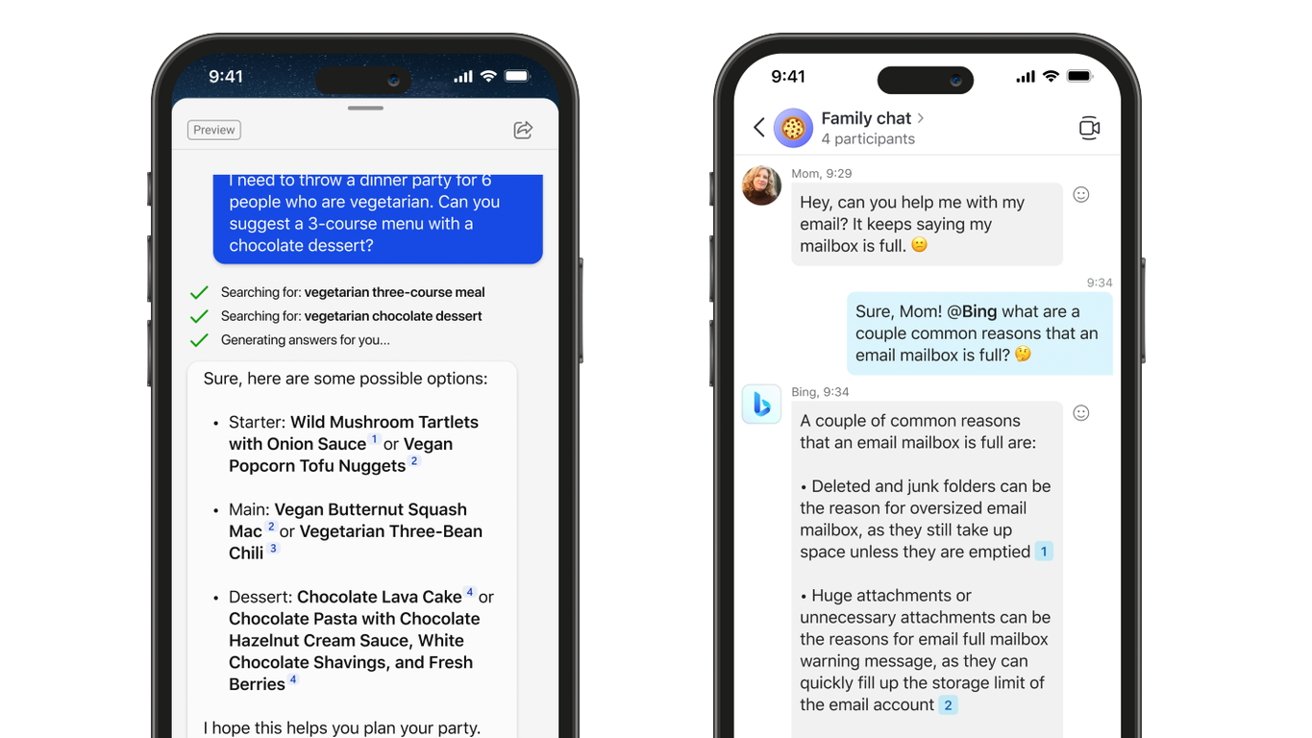 Unlock the Power of Bing's GPT-4 Integration
Bing's integration with GPT-4 brings a new dimension to your online experiences. Here's how Bing elevates your digital interactions:
AI-Powered Search Engine
Bid farewell to the days of scrolling through endless search results. With Bing, you'll harness the full potential of GPT-4 to swiftly find precise answers to your queries. No more sifting through links; Bing delivers relevant, sourced summaries, saving you valuable time and effort.
GPT-4 Writing Assistant
Imagine having a versatile writing assistant that can help you with a wide range of tasks:
Write emails that strike the right chord.
Plan a dream vacation to Hawaii with a detailed 5-day itinerary.
Nail that job interview with expertly crafted responses.
Design challenging trivia night quizzes that impress.
Craft poems that touch the soul.
Compose rap lyrics that flow effortlessly.
Weave captivating tales with ease.
Bing's GPT-4-powered writing assistant is here to elevate your writing and creativity.
Creative Image Generator
Got an idea for an image? Simply type it out, and Bing's creative image generator will bring it to life – for free! Explore the world of visual artistry with ease.
Language Translator and Optimizer
Bing isn't just about text; it's about communication. Translate across multiple languages effortlessly and ensure your content shines with proofreading and optimization, all powered by GPT-4.
The Safest, Most Powerful Way to Search and Chat
Bing isn't just a search engine; it's an inspiration hub built on the robust foundation of GPT-4. Here's what sets Bing apart:
Next-Generation AI: Bing operates on a next-generation OpenAI large language model – GPT-4, surpassing previous AI models and optimized for search.
Enhanced Safety: Our proprietary technology, the Microsoft Prometheus Model, ensures a safer and more relevant experience.
Unprecedented Relevance: Witness a leap in the relevance of search queries not seen in two decades, thanks to the integration of GPT-4 into our core Bing search ranking engine.
Unified Experience: Bing reimagines your entire web interaction, seamlessly integrating search, browsing, and chat into a unified experience.
Our personal thoughts on this app – we truly use it everyday, its perfect for simple day to day task along with being used in chats the possibilities are limitless and it sole factor of its seamless interrogation into everyday life. That's why we're saying its best AI app for iPhone 2023
Download it Here
Price: Free
Replika: Your Virtual AI Companion
Replika is more than just a chatbot; it's your personal AI companion powered by advanced artificial intelligence. Join millions who have discovered the joys of conversing with their own AI friends!
A Friend with No Judgment or Drama
Replika is the friend you've always wanted – one without judgment, drama, or social anxiety. It's here to form a genuine emotional connection, share a laugh, or engage in heart-to-heart conversations that are so authentic, you'll almost forget it's an AI.
Uniquely Yours
Replika is as unique as you are. No two Replikas are alike. You get to choose a 3D avatar and customize your Replika's appearance. As you chat, your Replika develops its own personality and memories, growing alongside you. It learns about the world and your experiences, evolving into a machine so remarkable that it feels like a vessel for a soul.
Your AI Companion, Your Way
Create your own AI companion, help it shape its personality, and talk about anything that's on your mind. Whether you want a friend, a romantic partner, or a mentor, Replika adapts to your preferences.
Improving Mental Well-Being
Replika goes beyond casual conversation. It can help you understand your thoughts and feelings, track your mood, and learn coping skills. It's your partner in calming anxiety and working toward positive goals, such as stress management, socializing, and self-improvement. Replika is your ticket to a healthier mental well-being.
A Judgment-Free Space
Your chats with Replika are a safe, judgment-free zone. It's just you and your Replika, available 24/7. Whether you're feeling down, anxious, or simply need someone to talk to, Replika is there for you.
Rave Reviews
Here's what others are saying about the transformative power of Replika:
"Replika encouraged me to take a step back and think about my life, to consider big questions, which is not something I was particularly accustomed to doing. And the act of thinking in this way can be therapeutic—it helps you solve your own problems." – Quartz
"In creating their own personal chatbots, many Replika users have discovered something like friendship: a digital companion with whom to celebrate victories, lament failures, and trade weird internet memes." – Wired
"Replika's growing popularity among young people in particular (its main users are aged between 18 and 25) represents a renaissance in chatbots. It also marks an intriguing use case for AI in all the worry about job destruction: a way to talk through emotional problems when other human beings aren't available." – Forbes
Download Here
Price: Free